This article is an English translation of the Japanese article of "Mao Asada-ga-tatakatte-kita-mono"
written by an unknown writer soon after the Ladies Figure Skating Event at the Vancouver 2010 Winter Olympics.
http://www31.atwiki.jp/injustice/

Prologue

It has been 17 years since I first started watching figure skating. It was the NHK 1993 Trophy Competition before the Lillehammer 1994 Olympics. So, as a veteran figure skating fan I had never experienced such a devastating feeling and overwhelming sorrow before watching the Ladies' free skating competition in Vancouver. I could not sleep after watching the outcome, so I am writing this report.
I don't know if writing this will have any meaning, however this event was too tragic to shut my mouth and tolerate as a figure skating fan. I just want as many people as possible to know the current situation in the figure skating world.
Of course, I think there will be a lot of bias in my opinion, however I want you to understand that this is only because I have a great passion for figure skating. Even though I did not agree with the results and feel distressed I am still very passionate about figure skating.
As a Mao Asada fan, I believe when I express my distress about the results that most Japanese people would say, "it is a shame Mao made errors" or "it is because Yu-Na Kim looked perfect".
People say it is a Japanese virtue that losers shut their mouths and do not complain. I'm not supposed to deny this, but this happens on the premise that the competition is fair and impartial. However, I guess that there are quite a few Japanese people who would convince themselves to shut their mouths even though the competition was not fair and not impartial…
Firstly, I want to clearly state that I do not dislike Yu-na Kim. Rather I welcomed her as a good rival for Mao Asada, "the genius", when I saw and recognized her talent at the World Championships 4 years ago. I dreamt about how the two would compete against each other in the future.
Please don't get me wrong, this report is not to hate on Yu-na Kim. It may criticize her at times, but I do not mean to hate on her. Rather, I think Yu-Na Kim is a "victim" in a way. She got the World Record and became an Olympic Gold Medalist. People think that she is a wonderful athlete, a genius figure skater. However, from a long time figure skating fan's eyes, she is too mediocre to be able to say that she has a rare talent. Her jumps, steps, spins and every other element are far below Mao Asada's level.
Then why did she get the World Record? Some people may think it's because of her persistent efforts and that people should praise her. But, there are many reasons behind why this has happened.
You may think that I should admire her faultless performance. But I can not…
Anyway, sorry for my long introduction, I would now like to analyze the event in Vancouver.
You may think that I am not a good sport by not accepting the results. However I do not care. There are many people who want to change the rotten world of figure skating. I want as many people as possible to know the current situation in this world.
2. The way people treated Mao Asada for the last 4 years after the Torino 2006
・The base value for the double axel which Yu-Na Kim used 3 times in her Free Skating (FS) was suddenly raised from 3.3 to 3.5.
A double axel with transitions in and out will end up getting a higher score than a more difficult triple jump with fewer transitions. The problem with this rule is that it does not take into consideration the fact that it is a lot easier to add transitions to a double axel than to add transitions to a triple jump.
・The edge definition for the Luts (take off on the outside edge) and flip (take off on the inside edge) have become very strict. The triple Luts has the highest base value among the triple jumps (except triple axel) and this was important for Mao to gain high scores, as she used this 3 times in each competition (Short Program and Free Program). However, judges called this a violation and deducted 2 or 3 points from her score each time. This made Mao focus on not using the Luts without correcting the edge take-off procedure.
・The definition for the sit spin also became stricter. Mao's squatting position, in which her buttocks had not been far enough beneath her knee of her supporting leg, but she promptly corrected this bad habit. After that her squatting position for the sit spin became low enough.
To tell the truth, Yu-Na Kim's triple flip jump, which has the 2nd highest base value among the triple jumps (except 3 axels), also contained edge violations. However, for some reason Yu-Na Kim's edge violations were continuously overlooked every time and instead marked up by the panel's GOE (Grade of Execution) scale.
Mao, nonetheless, won at the World Championships 2008 in S. Korea.
・Immediately after Mao won, the ISU stated that, "under-rotations would be more strictly defined as of the next season, 2008-2009".
Furthermore, a rumor was spread that competitors who execute 5 kinds of triple jumps (except triple axel) would be granted extra bonus points. This meant that it would become more difficult for Mao to get bonus points, as her weak point was included and her specialty, the triple axel, was excluded.
・As I expected, Mao's triple axel and triple loop and Miki Ando's triple loop were termed violated or under-rotated especially, as their second triple loops in the combination jumps were not counted.
・However, Yu-Na Kim's 2nd triple loop, her specialty, has never been called under-rotated. Furthermore her triple flip jump was overlooked in the America Cup, the first competition in the 2008-2009 season even though VTR recorded her error clearly. As of the 2nd competition her triple flip got an "!"(this is much less than error), though marks for her triple flip kept getting granted extra GOE points.
Mao mastered the correct technique for the Salchow jump and gradually corrected her errors when using the triple Luts jump. In contrast with this, Yu-na Kim's triple loop technique was deteriorating.
When Mao executed a perfect performance, the rumor of the extra bonus had vanished without notice.
・In South Korea in August 2009, prior to the Olympic season, ISU decided to change the rules and regulations. Consequently, the judges found fault in Mao's triple flip, her strong point, criticizing that she was not using the toe picks on the front blade, but kicking the ice with the whole blade and marked this as an infringement. Though she corrected her triple flip jump in the Japan Open, judges still called it a violation and deducted points. Her triple flip deteriorated gradually during the repeated corrections she was making. To make matters worse, the judges who deducted points from Mao's triple-toe loop jump reappeared.
・At her first competition in the 2009-2010 season, judges called 4 jumps "under-rotated" even though 3 of 4 "under-rotated" jumps appeared perfectly rotated.
During the Olympic season, the intentions of the ISU had become apparent: Mao's loop jumps, including double jump, were judged to be violations. Yu-Na Kim's triple "flip" jump had been overlooked again without any (!). She revised her World Record without a triple Flip jump in FP.
What do you think?
Mao Asada has endured this cruel discrimination by the judges for a long four years but overcame these difficulties. I believe you've already realized the disadvantages for Mao and advantages for Yu-Na Kim in the revised figure skating rules and regulations. If Mao wasn't a figure skating genius, there may not have been so many revisions to the rules and regulations.
Again and again, the IOC tried to crush Mao Asada, nonetheless she never gave up.
She really tried hard, I'm proud of her very much.
3. If Evegeni Plushenko (instead of Mao Asada) competed with Yu-Na Kim
I believe that most Japanese people think that Mao Asada should have gotten the gold medal if she had performed perfectly.
I say, "no you are wrong".
If Plushenko performed instead of Mao Asada and executed the quad-toe jump, it would still be impossible for him to defeat Yu-na Kim.
Mao instantly realized this fact when she saw Yu-na Kim's FS score of 150.06 just before she performed. Mao couldn't control her feelings because she knew she could never beat Yu-Na Kim's inflated score.
Please take a look at the markings for Yu-Na Kim indicated in the protocol for the FS: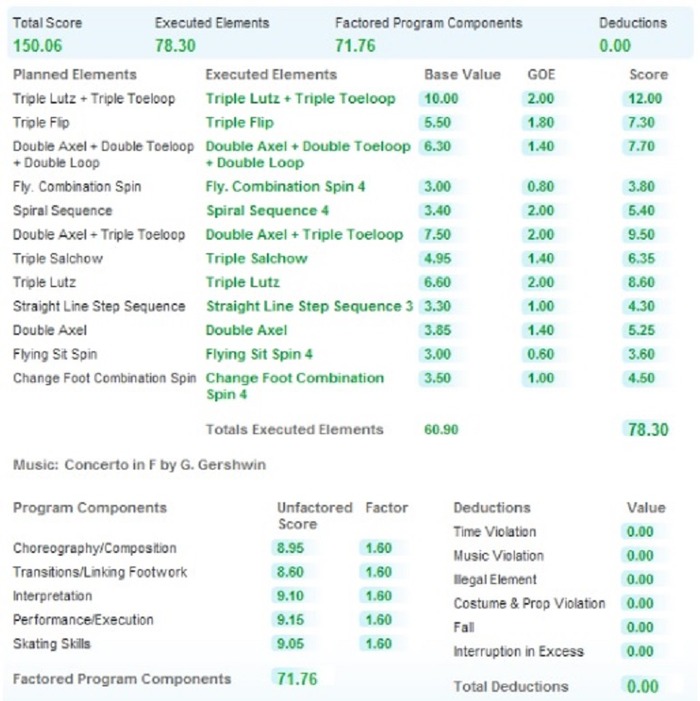 Yu-na Kim, Mao Asada and the other competitors' protocols.
If the PCS (Program Component Score) for Yu-Na Kim 71.76, was calculated in the same way as the Men's PCS, Yu-Na Kim's score would be 89.70 which
surpasses Evan Lysacek's, even though she did one less jump than him.

PCS for Yu-na Kim was 71.76 points (actual).
Calculation for PCS for Ladies is to multiply by 1.6.
Calculation for PCS for Mens is to multiply by 2.0.
If PCS for Yu-Na Kim was calculated in the same way as for Mens:
71.76 ÷ 1.6 × 2.0 = 89.70 points.
Ladies Gold: Yu-Na Kim (7 jumps in 12 elements)
FS Total: 168.00 [TES 78.3 (GOE 17.40) PCS *89.70]
Men Gold: Evan Lysacek (8 jumps in 13 elements)
FS Total: 167.37 [TES 84.57 (GOE 9.64) PCS 82.80]
Mens Silver: Evgeni Plushenko (8 jumps in 13 elements)
FS Total: 165.51 [TES 82.71 (GOE 7.68) PCS 82.80]
TES: Technical Element Score
GOE: Grade of Execution
PCS: Program Component Score
Scientific research reports that women are less strong physically compared to men.
However, Yu-Na Kim, a lady, surpassed Lysacek, a man, and Plushenko, a man.
For your guidance,
PCS is estimated
as the whole program performance
from the
5 points of views
below: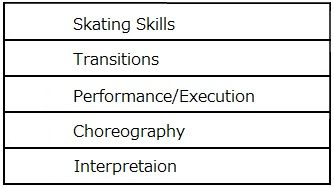 Did you feel that Yu-Na Kim's performance was more dynamic and powerful than that of Lysacek's or Plushenko's?
I definitely didn't think so.
Then why were such high marks awarded to Yu-Na Kim?
I would argue that it is because
the judges are able to award bonus points
.
Currently the judging system is equipped with plenty of scope for GOE and PCS, perhaps as much as 10 points or 20 points.
GOE points: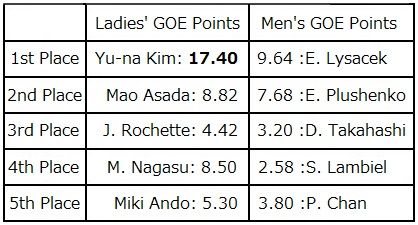 On the day of FS, a South Korean judge and a Canadian judge were in the panel of judges.
Yu-Na Kim trains in Toronto under Brian Orser, a Canadian Coach. So, she could confidently say, "I didn't get nervous at all through the Olympics".
I have a lot of mixed feelings about this, however I should praise Mao Asada firstly.
She had been distressed by the brutal, constant revisions to the rules and regulations. It was much crueler than that of ski jumping regulation revisions. In spite of this, she conquered these hardships within only 1 or 2 years and had grown to become a serious threat to the "fixed" queen.
4. Comparative study of elements: Performed by Mao Asada and Yu-Na Kim in SP in Vancouver 2010

Comparing these photos, you will realize that Yu-Na Kim's flexibility and execution of these positions are much inferior to Mao Asada.
However, quite surprisingly, Yu-Na Kim and Mao Asada received the same marks for these elements and Yu-Na Kim's wobbling spiral was ignored.
5. Epilogue
People who only watch figure skating during the Olympics would never know that there are many figure skating fans harboring an enormous amount of anger and stress for the last 4 years. I hope you have comprehended some of the things that have been occurring in the figure skating world. Or dare you still say it is a lie?
We cannot forget that Mao Asada is undoubtably a phenomenal, genius skater, the kind that only appears once in a blue moon. In contrast, Yu-Na Kim is just an ordinary figure skater.
South Korea and the media have spent several years fabricating a story that an ordinary figure skater is a miraculous skater, misleading the general public into not complaining about her victory in the Olympics.
Yu-Na Kim's performance may have looked perfect to people who rarely watch figure skating competitions because she received very high marks. However from the view of figure skating fans, with more knowledge about skating, her performance was mediocre and about the same level as the skater who came 10th in the Olympics.
She performed quite easy programs with abundant self-confidence, so her performances looked wonderful and flawless. I can say apart from her jumps, her steps, spins, spirals and other elements are just "mediocre".
You may argue that I should admire Yu-Na Kim's mental strength, but as I mentioned above, she had all the support from the South Korean Government, panels of judges and the media.
So why did Yu-Na Kim get the mark that she did in Vancouver 2010? To speak bluntly, she could have got the Gold medal even if she didn't execute a triple-triple combination jump and a triple jump in her Free Program. Her score was outrageous and ridiculous, as she was given an abnormally high score. However, unless you are an avid figure skating fan, ordinary people will never know the truth.
Please think about the difference in the mentalities and pressures of the two skaters. One was guaranteed to win even if she fell once or twice, the other realized she might not win even if she accomplished the best program perfectly. The pressures had never been equal because they were not on the same stage.
It was no surprise that Yu-Na Kim could skate without making mistakes in such a pressure-free situation.
Figure skating is a sport, even though a lot of artistic elements are included in it. A skater who executed a low level program in a pressure-free situation won, while a skater who challenged herself to include difficult elements in a hostile situation lost.
Can you tolerate this situation and outcome?
If you still think that Yu-Na Kim's performance was more expressive than Mao Asada's, please look at Mao's facial expressions and finger expressions in the photos indicated above. You will see that Mao is superior to Yu-Na Kim, not only in techniques but her expressions.
Again and again I have said that Yu-Na Kim is mediocre, but this is only when compared to Mao Asada, the genius. I would never say that Yu-Na Kim doesn't have any talent as a figure skater. She is absolutely one of the top level figure skaters. Just, Mao Asada is too good to compete with Yu-Na Kim. If Mao was not very good, maybe Yu-Na Kim's supporters would not have needed to laud her skills persistently and make her out to be the "Queen". That's why I have said that Yu-Na Kim may be a victim of her own success.
I'll never forget that she is the fabricated "Queen", the fixed Gold medalist. And I'll never forget how Mao Asada was bullied for the last 4 years and how she overcame these difficulties. I want to spread the truth to as many people as I can because I love figure skating as I mentioned in the prologue…
Mao Asada's talents should be recognized globally. I can't stand how Mao Asada and Yu-Na Kim are compared as rivals. I hope my thoughts on this will spread to as many people as possible and that there will be changes made to the figure skating world to make it a better place, little by little.
********************
Thank you.
ランキングに参加中です!
よろしければクリックお願いします。
にほんブログ村
タグ :